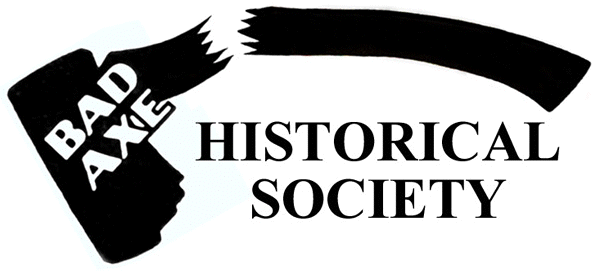 Bad Axe Historical Society Museums
Bad Axe, Michigan
January 2021 - click here for information about the brick fundraiser
For more information, please contact: badaxehistorical@yahoo.com.
The Bad Axe Historical Society operates and maintains two museum sites in the city of Bad Axe. Their locations are shown on the map included in this website. The Society's efforts are all on a volunteer basis and there is no admission charged. Of course, your donations of artifacts, old photographs, history or contributions toward maintenance costs will be greatly appreciated. We look forward to showing you our historical collections.
(click on titles to see pictures of each site)
303 N. Port Crescent Avenue
This 1902 Dutch colonial home was built by Wallace E. Allen, the town's longest serving mayor. The home was owned by only one family and is nearly unchanged from its original configuration. Many of the homes original features are still as they were in 1902. The home is furnished with period antiques throughout.
205 South Hanselman Street, Bad Axe
This historic village is the largest collection of authentically restored pioneer log buildings in Michigan. The six individual museums include a pioneer home, general store, one room school, chapel, barn and a blacksmith shop. They were originally built between 1875 and 1900 and moved to this site from elsewhere around Huron County, Michigan, in the 1980's. Each contain period artifacts and antiques that let the visitor step back in time and look into this area's past.
The last Sunday in June each year is Log Cabin Day in Michigan and is a special event at the Bad Axe village.
The village is open Sunday afternoons from 2:00 pm to 4:00 pm during the summer months between Memorial Day and Labor Day. Admission is free.
The chapel can be rented for weddings and special events in the village. Contact (989) 269-7416 or (989) 269-8325. There is a fee of $40.